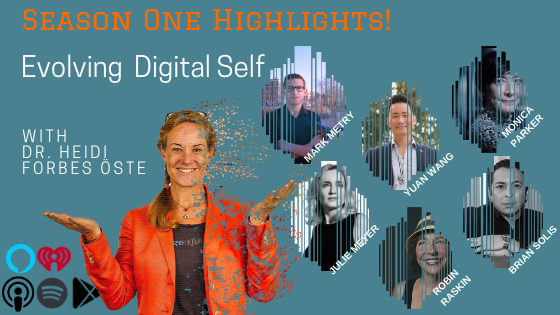 Dr. Heidi Forbes Öste wraps up with highlight excerpts from some of her favorite interviews from the first season of Evolving Digital Self. The excerpts include interviews with:
Mark Metry, host of Humans 2.0, Mark is Founder of VU Dream. Prior to founding VU Dream in 2016, Mark was the founder and creative director of PPMC, started in 2013, the #1 Pixelmon Minecraft server in the world. As creative director, Mark grew the company's website to reach over 10 million users and 10,000 registered premium members. Mark managed a remote staff team of over 40 talented individuals and directed company growth programs. Mark & Dr. Heidi talk about being human in the digital age. From the perspective of developing a successful business as a GenZ entrepreneur, Mark shares his path and the insights gained on his journey to being an evolved human.
Julie Meyer, Founder of Ariadne Capital. She is an American expat in London and the author of Welcome to Entrepreneur Country. She is the founder and sole director of Ariadne Capital (currently in administration), owner and sole director of the General Partner of the Ariadne Capital Entrepreneurs (ACE) Fund, and is the founder and sole director of EntrepreneurCountry Global Limited. Meyer was the co-founder of the networking club First Tuesday (1998-2000). In 2009, she appeared as a Dragon on the short-lived online version of BBC's Dragons' Den.
Yuan Wang is a futurist, technologist, manifestation architect, #1 best selling author of theAbundance Prophecyand parallel entrepreneur who designs #DLT systems and transformational experiences that help humanity play its way to Abundance. For over two decades, Yuan designed, coded and operated some of the most popular 3D video games in history including Descent, Lucasarts' Jedi Knight and World of Warcraft. He has built multiple startups, served as an executive at Blizzard Entertainment, Disney, and Midway Games and is currently building and advising decentralized technology and human performance organizations for Civilization 2.0. website: theyuanwang.com
Monica Parker, CEO and co-founder of Hatch Analytics. Monica has been an author, speaker, designer, CEO, activist, clown, opera singer and, most recently, founder. Her specialism of more than a decade has been navigating and communicating organisational change. She is a blogger for the Huffington Post and Thrive Global, a contributor to publications such as the FT and Sunday Times and is a workplace authority for BBC Worldwide and BBC Radio.
Robin Raskin is the founder of Living in Digital Times(LIDT), a team of technophiles who bring together top experts and the latest innovations to look at the intersection of lifestyle and technology. LIDT produces a number of notable conferences and expos at CES®and at conferences and events worldwide. The company's trademark events include Last Gadget Standing, Digital Health Summit, HighTech Retail Summit ,FashionWare, Fitness Tech Summit, Kids@Play Summit, The Digital Money Forum and others.
Brian Solis, futurist, digital anthropologist, author & speaker on Digital Transformation. Brian is a digital analyst, speaker and author. He is a principal analyst studying disruptive technology and its impact on business at Altimeter Group, a research firm acquired by global brand management consultancy Prophet in 2015 Digital Change Agent Manifesto
Blog: http://www.briansolis.comTwitter: @briansolis
This episode is also celebrates the launch of Dr. Heidi Forbes Öste's, new #1 Bestselling book, Digital Self Mastery Across Generations, Print edition now available from all on-line booksellers internationally. Explore the mastery of the digital self, learn your profile and those around you and how to relate to them. Great tips and tools for learning to evolve your Digital Self to thrive in the digital era.
Don't forget to subscribe for Season Two of Evolving Digital Self podcast on your favorite podcast app. We will kick off the season with Santa on Christmas Day! No kidding, he's the Coca-Cola Santa. More great episodes including Siri (the voice of) and more.