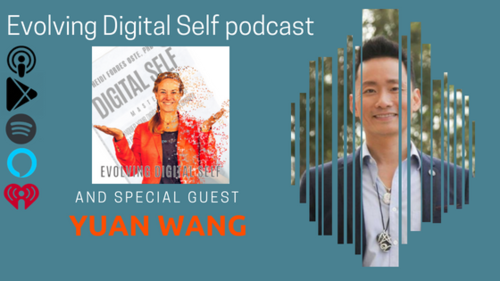 Dr. Heidi and Yuan Wang, the Manifestation Architect, talk blockchain, distributed ledger technologies (DLT) and upleveling to Civilization 2.0
Yuan Wang is a futurist, technologist, manifestation architect, #1 best selling author and parallel entrepreneur who designs #DLT systems and transformational experiences that help humanity play its way to Abundance. For over two decades, Yuan designed, coded and operated some of the most popular 3D video games in history including Descent, Lucasarts' Jedi Knight and World of Warcraft. He has built multiple startups, served as an executive at Blizzard Entertainment, Disney, and Midway Games and is currently building and advising decentralized technology and human performance organizations for Civilization 2.0. Yuan Wang's 2018 book, The Abundance Prophecy.
Website: theyuanwang.com
Facebook Page: business.facebook.com/manifestationarchitect 
Twitter ID: theyuanwang
Instagram : theyuanwang
This episode is brought to you by my wellbeing tech of choice, Oska Pulse. It has helped relieve my chronic pain caused by Lyme disease so that I can get back to work, and life in general.
Oska Pulse is a Pain Relief and Recovery Device using Pulsed Electromagnetic Field Therapy (PEMF). It creates an electromagnetic field that pulsates while it modulates the damaged cells to squeeze the toxins out and opens the cells to allow nutrients (potassium, sodium and magnesium) to flow into the cell. The Oska Pulse puts the damaged cells in the best situation to repair themselves and then replicates the electrical signals your body creates to fix the damaged cells.
Click here to get yours today with my Ambassador discount. Or enter 2BU as a discount code at OskaWellness.com
ShortLink is http://bit.ly/EDS-Oska