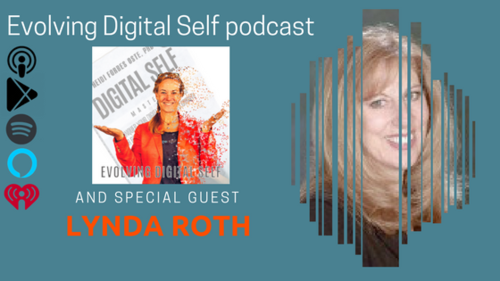 Dr. Heidi and digital transformation expert, Lynda Roth, talk about the opportunities and challenges in introducing new technologies in traditional industries.
Lynda J Roth founded LJR Consulting with more than 30 years experience contributing to organizations as a Senior Technology Executive, Business Consultant and IT strategist. Lynda J. Roth has developed keen insight and a proven track record of solving business problems through technology. She also was an early proponent of using information technology not simply to improve business efficiency, but to create a competitive advantage and accelerate business growth. As a result she has been transforming businesses for over 20 years using digital technology. Lynda was raised in an entrepreneurial home and worked in the family business from a young age. She quickly became a student of business. When she was planning for college she learned about Information Technology and decided to obtain her degree in IT. To round out her education she later obtained a degree in finance. 
Lynda began her career in information technology as a developer to Fortune 500 companies such as Ralston Purina, Levi Strauss and McDonnell Douglas. Due to her business knowledge she rapidly moved into IT management. She also worked with a software company and then established her first technical consulting practice working with Fortune 500 companies to implement financial and CRM applications.
After a few years in consulting, she teamed with a couple of her colleagues and launched a software/consulting firm. The software application they developed was an early mainframe business intelligence application on which executives could rely for decision making. Their clients included American Medical International, First Interstate Bank, Saks Fifth Avenue, Shearson Lehman and American Express Bank. Lynda's approach is to use information technology to contribute to her clients' business development goals.
Her impressive track record has consistently demonstrated a unique capability to identify critical business needs, define effective technology solutions for those needs and then successfully and economically implement these solutions so her client companies enjoy significant long-term results.
Website: www.ljrconsultingservices.com
LinkedIn: www.linkedin.com/in/lyndajroth
This episode is brought to you by my wellbeing tech of choice, Oska Pulse. It has helped relieve my chronic pain caused by Lyme disease so that I can get back to work, and life in general.
Oska Pulse is a Pain Relief and Recovery Device using Pulsed Electromagnetic Field Therapy (PEMF). It creates an electromagnetic field that pulsates while it modulates the damaged cells to squeeze the toxins out and opens the cells to allow nutrients (potassium, sodium and magnesium) to flow into the cell. The Oska Pulse puts the damaged cells in the best situation to repair themselves and then replicates the electrical signals your body creates to fix the damaged cells.
Click here to get yours today with my Ambassador discount. Or enter 2BU as a discount code at OskaWellness.com
ShortLink is http://bit.ly/EDS-Oska