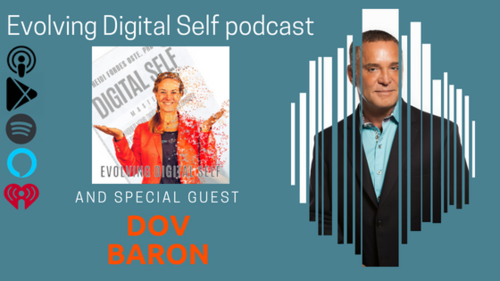 Dr. Heidi talks with Dov Baron about the characteristics required for today's leadership and how to create fierce loyalty.
Dov Baron has been speaking internationally for over 30 years, he's the man with a finger on the pulse of the evolving world of NextGen leadership. Twice cited as one of Inc. Magazine's Top 100 Leadership Speakers to hire. Dov Baron is a master storyteller, who has had the honour of presenting for The World Business Conference in Tehran as well as speaking for the State Department, and The United Nations on Leadership.
He is considered by many as the leading authority on Authentic Leadership, and the founder of Full Monty Leadership and The Authentic Speaker Academy for Leadership. Outside of his speaking and training Dov works with multi-disciplinary leaders and executive teams to build the bonds that create organizational cultures that become Fiercely Loyal. Dov is a bestselling author of several books. His latest book is Fiercely Loyal; How High Performing Companies Develop and Retain Top Talent. He is the host of the national (US) TV show "Pursuing Deep Greatness with Dov Baron" on ROKU TV, and the host of the Number One Podcast for Fortune 500 Listeners (globally) "Dov Baron's Leadership and Loyalty Show" on iTunes.
He also writes for and has been featured in many industry magazines including being featured on CNN, CBS Small Business Pulse, SHRM, Yahoo Finance, Boston Globe, Business in Vancouver, USA today, CEO, Entrepreneur and many more.
website: http://FullMontyLeadership.com
Facebook Page: https://www.facebook.com/DovBaronLeadership
Twitter ID: https://twitter.com/TheDovBaron
Instagram: https://www.instagram.com/dovbaronleadership
This episode is brought to you by my wellbeing tech of choice, Oska Pulse. It has helped relieve my chronic pain caused by Lyme disease so that I can get back to work, and life in general.
Oska Pulse is a Pain Relief and Recovery Device using Pulsed Electromagnetic Field Therapy (PEMF). It creates an electromagnetic field that pulsates while it modulates the damaged cells to squeeze the toxins out and opens the cells to allow nutrients (potassium, sodium and magnesium) to flow into the cell. The Oska Pulse puts the damaged cells in the best situation to repair themselves and then replicates the electrical signals your body creates to fix the damaged cells.
Click here to get yours today with my Ambassador discount. Or enter 2BU as a discount code at OskaWellness.com
ShortLink is http://bit.ly/EDS-Oska
Your order will help support the Evolving Digital Self podcast. If you like it, please feel free to share it with your friends (both the discount and the podcast 🙂