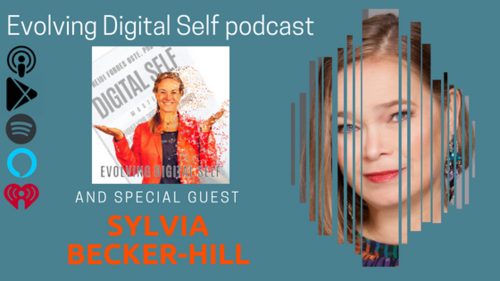 Dr. Heidi and Sylvia Becker-Hill, founder of the Becker-Hill School of Empowerment, talk about bringing one's authentic self to leadership, honoring the superwoman and being enough.
Always "wowing" her stage, podcast, and television audiences alike, Sylvia Becker-Hill creates edutaining experiences by using science, psychology, and proven success principles to help free them from the patriarchal stories and struggles that are blocking them from their ultimate success.
A sought-after international expert in the corporate leadership arena for the last 20 years, international author and speaker, Sylvia Becker-Hill is passionate about helping women unlearn the patriarchal "superwoman" rules that have been strangling their true success and show them how to master all areas of their lives by simply being – women.
But Sylvia Becker-Hill, just doesn't help the ladies break the bonds of the patriarchy. Her work even extends to the gents who want to be done with patriarchal strong hold so that they too can be true co-creators in their lives and work.
Sylvia Becker-Hill helps audiences to unearth and break free of the unserving dogmas of the past while supporting them as they step into their success, love filled futures by living their EVElutionary™ lives by simply being – women.
Find Sylvia and her work at the following links:
Sylvia Becker-Hill global corporate keynote services about leadership, gender equality, diversity and inclusion: www.sylviabeckerhill.com
Women's Empowerment School podcast on ITunes, Google Play and Stitcher and with shownotes on the school's webpage:
www.becker-hill.com/podcast
Becker-Hill's international bestseller "Instant Insights on 12 Leadership Powers for Successful Women":
http://bit.ly/BeckerHill-book
Facebook: https://www.facebook.com/SylviaBeckerHillFan
LinkedIn: https://www.linkedin.com/in/sylviabeckerhill
Instagram: https://www.instagram.com/sylviabeckerhill
Twitter: https://twitter.com/SylBeckerHill
As mentioned in the podcast, Follow this link https://shop.goodideadrinks.com (enter discount code 2BU30 at checkout) to get 30% off when you try Good Idea Water (the sparkling water that lowers your blood sugar response lowering pre-diabetic risks and limiting the post lunch slump), using the 2BU30 code. Your order will help support the Evolving Digital Self podcast. If you like it, please feel free to share it with your friends (both the discount and the podcast 🙂