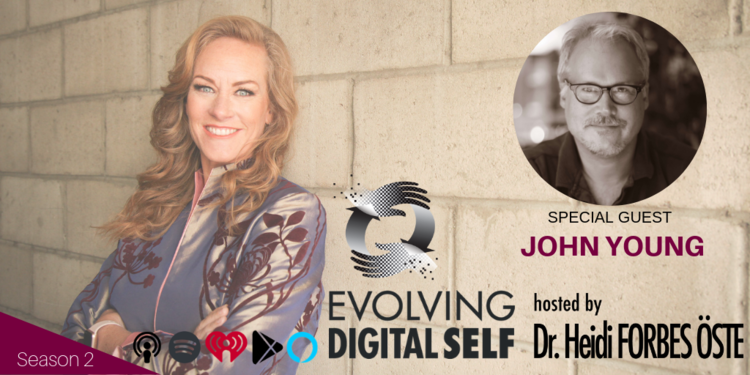 On this episode Dr. Heidi interviews John Young. cousin and builder of digital things. Young Brands supports digital start-ups.
John Young is a true pioneer of the digital age. His trailblazing achievements boast a ton of mediatech firsts and innovations. Essentially, John helps people connect and interact in marvelous ways – online, offline, mobile, social, in-store, on-screen, in-game, on-wrist… across every device, experience and touchpoint in-between. John's worked with some of the most successful and popular brands in the world – like Disney, Sony, Pepsi, Microsoft, McDonald's, Hasbro, and Budweiser. And he's helped eager startups, like Zipcar, Priceline, Riot Games, American Idol and DoubleClick, grow from grassroots into well-loved billion-dollar brands.
John also built some legendary public and private global media companies of his own. Notably, John was the founder of Tribal Worldwide (OMC), an award-winning agency network with over 46 offices in 28 countries. John was also Chief Creative Officer of Poppe Tyson (MMPT), one of the world's first digital agencies. Through his advisory, Young Brands, John currently serves on the boards of a few ambitious mediatech and consumer brand companies. And he lives in Cambridge, MA in a home filled with unusual musical instruments.
Website: https://www.youngbrands.com
Linkedin: https://www.linkedin.com/in/youngbrands
Twitter: @youngbrands
 *************************************************************************************************
 This episode is brought to you by Rocketbook, Dr. Heidi's favorite offline tech tool. Rocketbook is a brilliant concept that enables the use of pen and paper for recording, but easy transfer of that into digital means that is searchable and easy to organize and trace.
Dr. Heidi has arranged a discount for you, her listeners, if you follow this link. http://www.getrocketbook.com?rfsn=1761454.14963a